November 8, 2014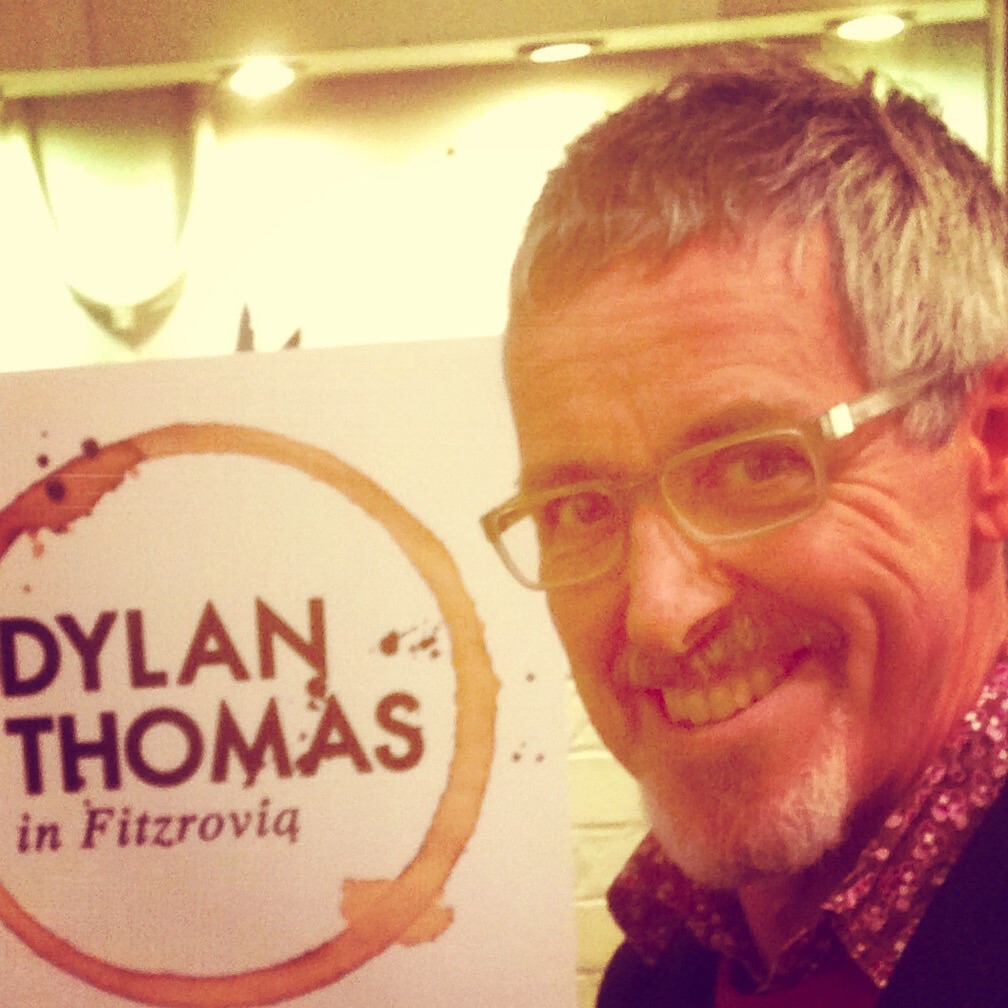 So the
Dylan Thomas in Fitzrovia Festival
is now over. Although only really on the periphery of the organisation it's been a part of my life and certainly large in my thoughts for most of this year.
Pub crawl walks were part of
Griff Rhys Jones
' original thinking for the festival which he conceived with Dylan's granddaughter,
Hannah Ellis
and actor
Jason Morrell
. It became far more than a tour of Dylan Thomas'
Fitzrovia
Pubs of course. And I have to say the final, fantastic Gala Performance on the South Bank was very emotional. I was hugely embarrassed until I looked round and saw the festival director, Jason Morrell, in floods of tears! I'm sure he won't mind me 'outing' him this way.
I'm not sure why I was so moved. I think it's perhaps because this festival and the research for the scripts I was working on have bought me much, much closer to Dylan. As a kid in Birmingham we spent every summer in Wales, but poetry was never a big deal on our council estate. But it's also Fitzrovia. From the moment I first sat in
The Fitzroy Tavern
- I was at Uni for the first time at the age of 50 but still needed cheap beer - and came up with the notion of our
London Literary Pub Crawl
, I had a special feeling about Fitzrovia. It really is still a remarkable village, just a few hundred yards from Oxford Street, one of the busiest shopping streets in the world.
Soho's
more refined, sophisticated sister.
I gatecrashed the launch party of the festival! David from the
Wheatsheaf
suggested I should go and gave me his ticket. But I've met some lovely and truly remarkable people -
Rebecca Hossack
- her gallery hosted the launch party - Griff, Jason, Rebecca, Trefor (Dylan's lovely son-in-law), writer
Hilly Janes
, Simon Green, the Gala organiser, the remarkably talented Tom Hollander,
Ralph McTell
, Guy Masterson, all the actors. It's been remarkable. I've stood on the shoulders of giants and realised we all have a passion for the same thing; a young, desperately talented welsh wordsmith who seized every day and did not go gentle into that good night.
If you come on our pub crawl, you'll feel closer to Dylan too, I hope. But a hundred years after his birth, I sat damp-eyed in the Queen Elizabeth Hall on the Southbank of London and felt I knew Dylan well enough to think he'd have loved it. In a strange way I'm motivated to carry that feeling on too. I don't want to leave Dylan and all the other literary giants that stalked the streets of London often with nothing but talent and aspiration.
The Centenary Festival may be over, but even though we continue with our Literary Tavern Tours, sharing the lives of writers, I have some big plans for 2015! Not a massive festival, but something I hope Dylan might appreciate. Watch this space! (Or better still, sign up for our FREE occasional Newsletter!)
Diolch!
Posted by Nick Hennegan. Posted In : Nick Hennegan