The Palm Tree, Mile End.
127 Grove Road, London, E3 5RP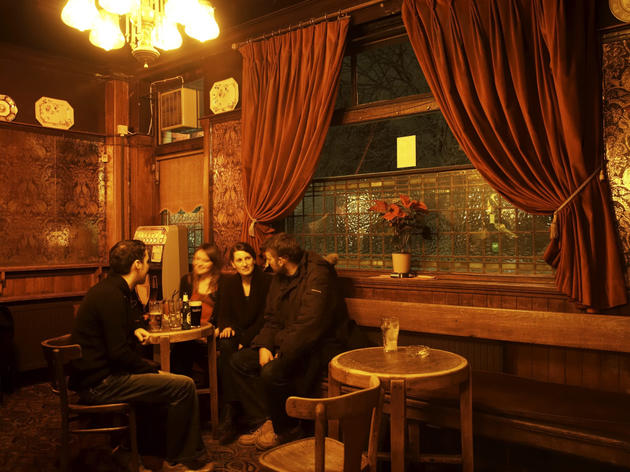 By Catherine O'Shea.
Entering the Palm Tree feels like stepping backwards into another time, or sideways into another world. First there is the matter of tracking it down, in the middle of a little park, not on any road - a stand alone relic. You may come at it from the canal that runs by, more likely you pass through a little thicket of trees and bushes and over a small bridge before crossing the car park to push open the door.
Inside, the Palm Tree is red. Red carpet, metallic red walls, red lighting. There are ageing photographs and illustrations on the wall and a piano and small stage in one corner – more on that later. Prop yourself up at the horseshoe bar, or grab a little table and stool around the edge of the pub. I hope you've brought cash, as they don't take cards (the nearest ATM is up near a shop called Hello Fresh on Roman Road but it's a walk of a few minutes so best done in advance rather than once you've arrived, although it is a dash I have done many times.)
The drinks are not the thing. Get a pint or a bottle of house red, open up a packet of peanuts on the table and settle in for the experience. Sometimes in the afternoon the pub is quiet and the air feels somnolent and if you're the type of person who reads a book in the pub then this is where to do it. A regular may chat to you about it. That's nice. But come the evenings and the weekend, and the vibe turns it up a notch, with a live jazz band – average age of band members, in their seventies – crooning and knocking out the classics from that aforementioned stage in the corner. Dancing with strangers may occur.
The bathrooms are freezing. The seating is not especially comfortable. Rumours of unfriendly service from Alf are greatly exaggerated in my opinion, but I'll admit it's certainly not a 'the-customer-is-always-right' situation and all the more authentic for it. When you've got sick of the blue light from your laptop or phone, when you're tired of the grey glass and concrete of the city, when it's wet or chilly or you've just become fatigued by the trials and tribulations of modern day life – then the warm red glow of the Palm Tree is where you must head to revive yourself.
Just remember, bring cash.
🍷🍷🍷 A must visit pub.