"You find no man at all intellectual, who is willing to leave London. When a man is tired of London, he is tired of life; for there is in London all that life can afford." DR. SAMUEL JOHNSON.
If you are visiting London, you might like to take a hop-on, hop-offLondon Bus Sightseeing tour, with our friends at The Original Tour.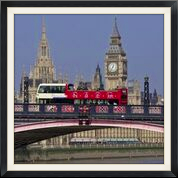 London is whatever you want it to be...
It is one of the greatest cities on earth. It stands on the Prime Meridian and draws in the best from East and West. It sits at the centre of Time and the world sets its watch by London's Big Ben.
London is built on commerce and trades with the world. It gave the world modern banking, the stock exchange and insurance and it remains the world's financial hub. London is home to the Mother of Parliaments and has given sanctuary to ideas, to freedom of speech and thought, to religions and refugees from across the globe. London has the best theatre, the greatest concentration of museums, opera and art and a musical and literary heritage second to none. London has the first underwater tunnels, the first and biggest underground transport system, the first international exchange, the highest Ferris wheel, the biggest dome, the loftiest church. London has over 2,000 years of history. It has survived pestilence, fire and war. It has Roman walls, Norman towers, Tudor palaces, Renaissance splendour, Georgian loveliness, Victorian grandeur and breath-taking modern wonders.
There is pomp and ceremony and spectacle, yet London is also intimate with quiet corners, crooked cobbled streets, winding alleyways and sunny squares. It is the most liveable-in of all cities with more green spaces than any comparable metropolis, and it has gardens everywhere. London is its people and its characters who meet here from every corner of the planet. London cannot be tamed. All you can do is revel in its richness and enjoy the adventure.
From the Preface to 'I Never Knew That About London' by Christopher Winn
Soho and Fitzrovia - the basis of our Literary Pub Crawl.
The Soho area of London is unique. It developed a dark reputation for its sex industry and its small pubs spilling over with character and characters. Yet, due mainly to the preservation efforts of the Soho Society, the area offers a unique experience and has remained largely unchanged in recent times. We have our deskspace in Soho, just off Carnaby Street. We love it!
Beat-cafes, obnoxious landlords, drunken writers and artists, film, media and advertising companies, theatrical agents, legendary jazz-clubs and rock clubs, gay bars and a general scruffy carefree atmosphere of Bohemian sleaze – this is Soho.
Where it is now throbbing and lively, during most of London's history this area, plus the area to the north known variously as Noho, East Marylebone and Fitzrovia, was peaceful grazing farmland; however, in 1536 the land was taken by Henry VIII as a royal hunting park and it's been a place of thrilling, wicked entertainment ever since. Indeed it is part of Soho folklore that the area's name derives from the ancient 'soho!' hunting call; though, truth be told, it is more likely to have come from the nickname of the Duke of Monmouth who used 'soho' as a rallying call for his men, and who in the 1600s was among the first to build in the area.
Despite the best intentions of landowners such as the Earls of Leicester and Portland to develop the land on the grand scale of neighbouring Bloomsbury, Marylebone and Mayfair, immigrants, such as French Huguenots, settled in the area, and it never quite became a fashionable area for the rich.
Indeed, it has been the making of Soho's charm and character that it has been neglected and undeveloped and allowed to run a little wild and rough and cosmopolitan. By the mid 1700s all the aristocrats who had been living in Soho Square or Gerrard Street had moved out and the artists had started to move in.
By the mid 1800s most respectable families had moved away and prostitutes, music halls and small theatres had moved in. By the early part of the 1900s there was a healthy mix of foreign nationals opening cheap eating houses – French, Italian, Greek, Russian, German, Polish and Swiss – and it became a fashionable place to eat for intellectuals, writers and artists. From the 1930s to the early 1960s, if Soho folklore is believed, the pubs of Soho were packed every night with drunken writers, poets and artists, many of whom never sobered up enough to become successful; and it was also during this period that the great Soho pub landlords established themselves. Sadly, with the retirement a few years ago of Norman, the landlord of the Coach & Horses, the last of the legendary landlords has gone. But if anything, the creative spirit has been strengthened, as you'll discover on our tour!
And make sure you check out our
VIDEO's page
for some great, unique films.